We are dependent on the kind donations from our wonderful supporters.  Below is a list of items which we constantly require.
Adult Cat food (Wet & Dry)
Kitten food (Wet & Dry)
Nursing Milk / Fluids
Cat Litter
Litter Liners
Litter Trays
Dog Crates (all sizes)
Bedding
Outdoor Housing for Feral Cats
Cat toys & Treats
Scratching Posts
Cat Carriers




















To see Items on our amazon wish list please visit: Huddersfield Feral and Strays Amazon Wishlist
All donations can we dropped off directly at Vets4Pets, 144 New hey Road, Huddersfield HD3 4BZ or alternatively if you would like to arrange for a volunteer to collect please use our Contact Us Page.
If you are able to donate time to help with transportation, trapping or anything else please let us know via our contact page or facebook group! (insert link to hudds feral and strays)
Cash donations can be made by either,
Can be paid directly in to our organizations bank account (please use the contact us form to ask for bank details)
Can be made directly to Vets4Pets Huddersfield either in branch or over the phone (01484 646800)
Via Paypal : https://www.paypal.me/hdferalandstrays Alternatively if you wish to donate a fixed amount please use the Donate buttons below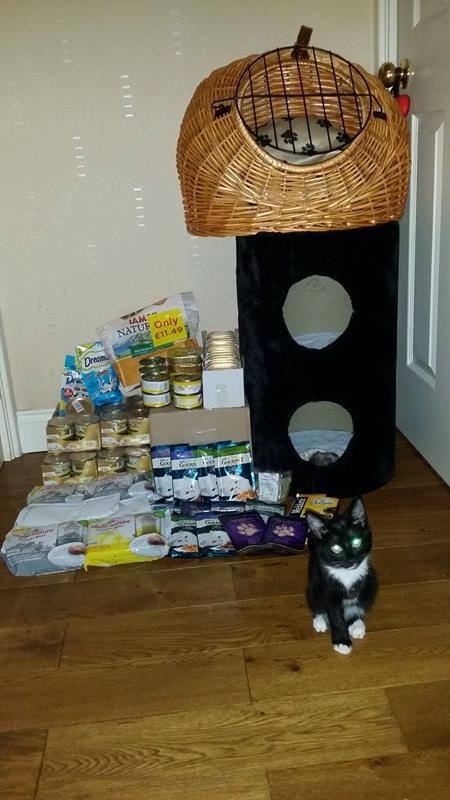 Donate
£5
A £5 Donation - may provide
Bag of Litter
1 Box of Food & A Toy
Bag of Dry Cat Food
Blanket
Donate
Donate
£10
A £10 Donation - may provide
Gastro-Intestinal Medication
Hooded Bed, Litter Tray & Bowl
Tub of Kitten Formula
Kitten Weaning Biscuits
Donate
Donate
£20
A £20 Donation - may provide
Specialist Veterinary Food
Critical Care Fluid
Small Humane Trap
Electronic Heat Pad
Donate
Donate
£50
A £50 Donation - may provide
Flea, Worm, Vacs & Microchip
Extra Large Dog Crate
Humane Trap & Cat Carrier
Medication for Pregnant Cats
Donate
Donate
£100
A £100 Donation - may provide
Basic Dental Work
Blood Test & Genaral Antibiotics
Faecal Sample Test
IV Fluids
Donate
Donate
£200
A £200 Donation - may provide
Specialist Medication
Emergency Consultation
Overnight Hospitalisation
X-ray & Sedation
Donate
Below are some of the companies who have generously donated items to our group, events and our Kitties!